Bible Study Podcast Series from The Quest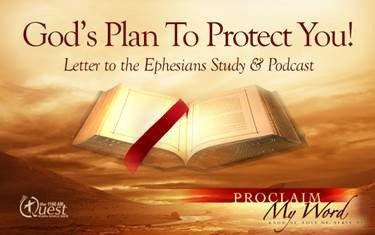 Have you ever wondered what God's plan was from the beginning of time? 
And where you fit into that plan?
Proclaim My Word, in partnership with AM 1160 The Quest – Your Atlanta Catholic Radio, is thrilled to announce a new Bible Study Podcast series: "God's Plan to Protect You!" based on the Letter to the Ephesians.
Starting October 11, 2022, Proclaim My Word Founder Keri Allen releases a new episode for six consecutive weeks. Study can be done individually or in a small group setting. Podcast and valuable study workbook available at no cost. Free will offerings accepted.
For details, visit ProclaimMyWord.org or TheQuestAtlanta.com or via The Quest Atlanta app.  All are welcome!  Come learn about God's plan to protect you!