Pastries with Paul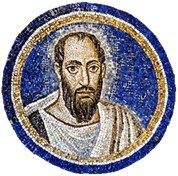 Discovering the Early Christian world
through the writings of the man who helped it grow.
During this informal monthly study, we'll explore the writings of Saint Paul in light of their context and culture.  We will survey and discuss the general themes found within the letters – reading can be done before or after the meetings as it suites you.
This group will meet the
second Thursday of the month
(August to May)
from 10:00 – 11:00 am in Room 12.
Please click here to register on the parish website so that we can keep you up-to-date with information on the group. 
If you cannot attend every session, that is alright.  We look forward to when you are able to join us!  Refreshments provided!
Please contact the Director of Faith Formation, Vincent Marcantonio with any questions or for assistance in registering.