Special Needs Trust Presentation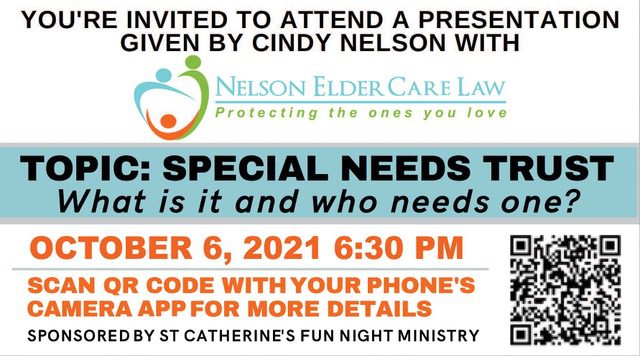 Cindy Nelson, an Elder Law Attorney, will have a Special Needs Trust presentation on October 6th at St Catherine of Siena Catholic Church. St. Catherine's is invite members from local Catholic Churches so everyone can attend. The presentation will be at 6:30 pm on Wednesday, October 6th in room 316/317.
This presentation will be on the importance of Special Needs Trust and how to build a TEAM to care for an extraordinary loved one when the parents or guardian cannot. Most people do not know that if an extraordinary person inherits money directly, he could be in danger of losing his government disability benefits. The Special Needs Trust, set up correctly, can avoid the issue.
Please RSVP so they know how many people to expect. The QR coded links to the registration form.
Please contact St. Catherine of Siena at 770-428-7139 with any questions.