The volunteer music ministry at St. Clare of Assisi is a vibrant and exciting place to serve God. There are a wide variety of options to join for all ages. Please contact Amelia Kuhlken if you are interested in joining the music ministry. Because we integrate our young people into this ministry, volunteers are required to complete a background check and Virtus training. Minor volunteers must complete a Minor Volunteer Application.
Traditional Music – Saturday 4:30 pm, Sunday 8:00 am & 10:30 am Masses

The Saturday 4:30 pm and Sunday 8:00 am Masses are our Cantor Masses.
These Masses use traditional music and are lead by cantor and piano. If you are interested in auditioning to become a cantor at one of these Masses please contact Amelia Kuhlken.

The Sunday 10:30 am Mass is our Traditional Choir Mass.
This ensemble is currently being formed. We are in search of singers who are able to sing in a 4 part (SATB) ensemble. This ensemble rehearses on Sunday mornings in Room 7 at 9:30 am. If you are interested in auditioning for this ensemble please contact Amelia Kuhlken.
.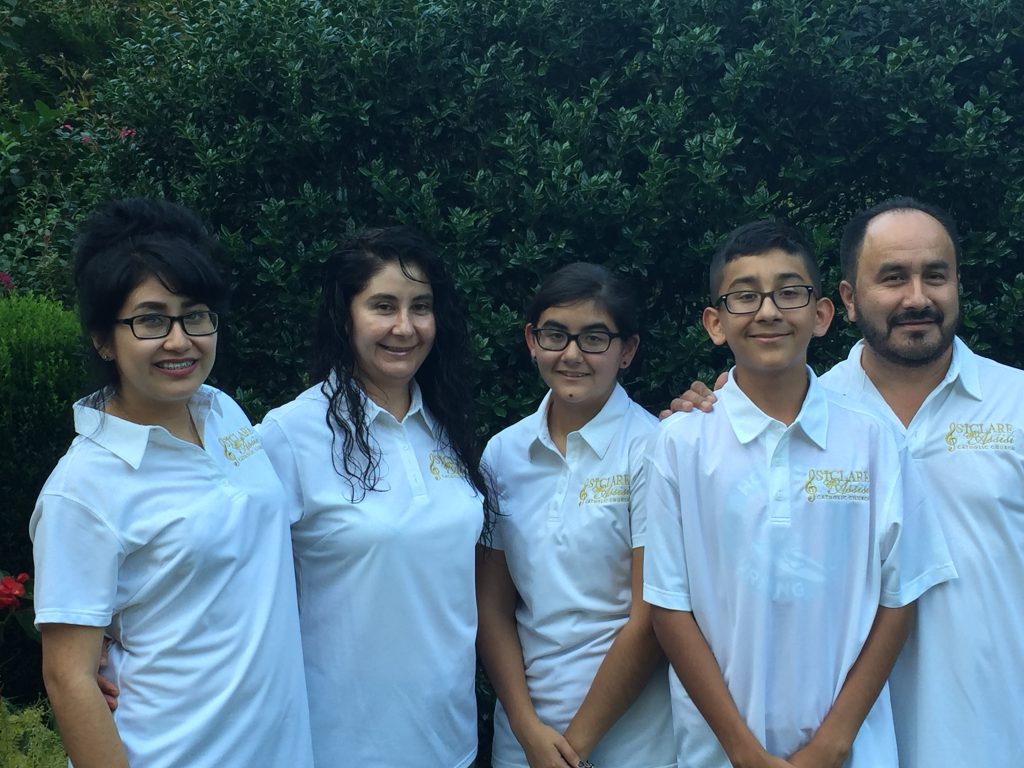 Spanish Music – Sunday 12:30 pm Mass
Para Musica en Español
"Cáliz" Ministerio de Musica y Alabanza sirviendo orgullosamente a la Iglesia de Santa Clara de Assisi.
"Chalice" Music Ministry and Praise proudly serving the Church of St. Clare of Assisi.
Praise & Worship Band – Sunday 5:00 pm Mass
The Praise & Worship band consists of vocalists, keyboard, electric guitar, electric bass, and drum set and is limited to young people under the age of 25. This group offers a lively and uplifting Sunday Night musical experience using exclusively contemporary music from CCLI. Rehearsals are Wednesday evening at 7:00 pm in Room 2.
View All Ministries